Deals for international customers

WELCOME CARD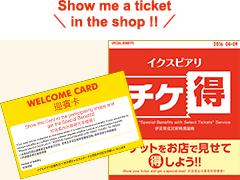 The WELCOME CARD is one of IKSPIARI's services. We will give international customers a WELCOME CARD when they show their passport, and showing the WELCOME CARD allows you to enjoy the best deals at our stores and restaurants.
Show one of the tickets below at the shop or restaurant to get various special deals. The ticket must be stamped with the date that you will use this service.
Service card issued by IKSPIARI for groups and international customers.
Show your passport at the information counter

Get a WELCOME CARD

Benefit from special offers by showing the card
If you would like to take advantage of the offers at multiple shops, please visit the information counter to request another WELCOME CARD.
You can also benefit from special offers with the tickets below.
Disney Resort Line Day Pass

To use this service, your Day Pass must be stamped on the back with the expiration date. (The expiration date is stamped when you go through a ticket gate at the monorail station for the first time.) For more information, please ask a Tokyo Disney Resort Line Cast Member.

Detailed information about Day Pass

Cinema IKSPIARI Movie Tickets

Customers who have advance tickets or Cinema IKSPIARI movie vouchers should exchange them for same-day tickets (which are printed with the date, time, and movie title) at a Cinema IKSPIARI ticket vending machine or ticket window before the movie.

Detailed information about Movie Tickets at Cinema IKSPIARI
Note
This service cannot be combined with other types of services or with other tickets.
This service is available for persons making purchases or dining at a participating shop or restaurant.
Business hours and service content are subject to change or discontinuation without notice.
Drinking alcoholic beverages and smoking by persons under the age of 20 is prohibited by law. Proof of age may be requested.
A separate ticket may be required at the ticket issuing facility for some services and campaigns, such as campaigns using Cinema IKSPIARI ticket stubs. To use both services, please use the Special Benefits with Select Ticket first. (Special Benefits with Select Tickets are not collected when used for services.)
Cinema IKSPIARI movie tickets can be used for this service either before or after viewing the movie.
TARGET SHOP LIST